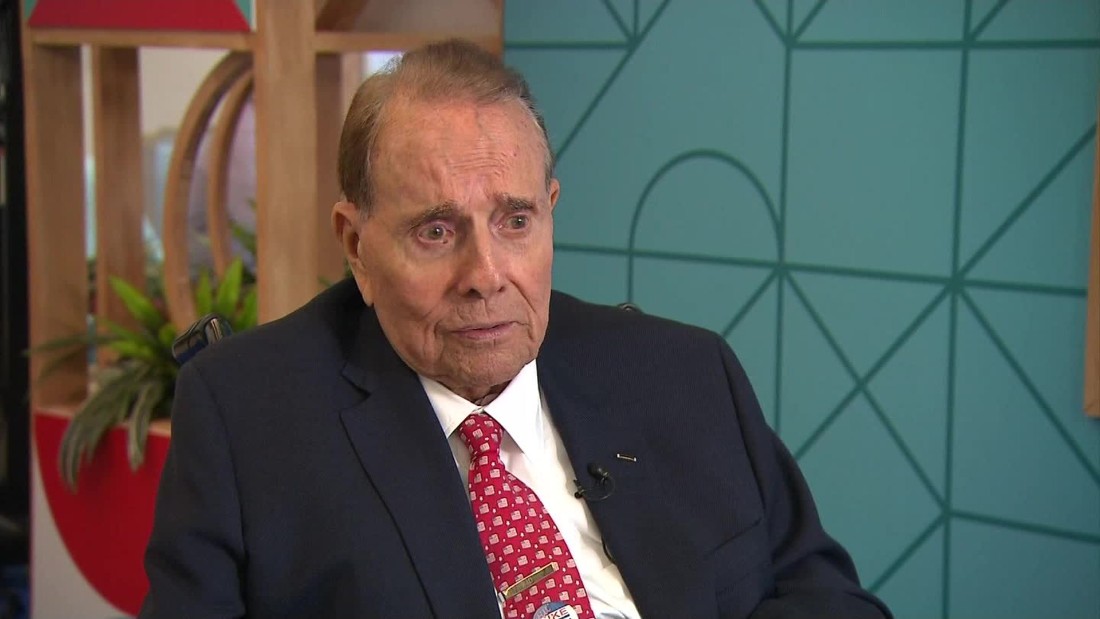 (CNN)Former Sen. Bob Dole reflected on the late Sen. John McCain's service to the nation after he and other leaders paid tribute to the Arizona Republican in Washington on Saturday.
"I was his leader for 10 years when he first came to the Senate, and then I left in '96, but we had a special relationship," the Kansas Republican said. "I think we were the only two Republicans with a pretty bad disability."
Dole, 95, a former Senate Majority leader, was referring to the devastating injuries that both men suffered in war — McCain in Vietnam and Dole in World War II.
McCain was tortured and beaten in the infamous "Hanoi Hilton" prison in Vietnam, where the Navy pilot was held for more than five years after his jet was shot down in 1967. The injuries he sustained in the crash and his imprisonment left him permanently incapable of raising his arms above his head.
McCain's daughter, Meghan McCain, talked about his injuries in an emotional tribute to her father during the memorial service on Saturday
"My father knew pain and suffering with an intimacy and immediacy most of us are blessed never to have endured," she said. "He was shot down, he was crippled, he was beaten, starved, tortured and humiliated. That pain never left him. The cruelty of his Communist captors ensured he would never raise his arms above his head for the rest of his life, yet he survived, yet he endured. Yet he triumphed."
"I wore John's POW bracelet for a number of years," Dole explained to Cabrera earlier this week in his first CNN interview after the senator's death. "And one day in the Senate, I decided to let John know, and so we got off in a corner, and I extended my arm, and on my wrist was a John McCain POW bracelet. It was kind of an emotional thing for John."
Dole himself spent three years recovering
from injuries he sustained in World War II
that left his right arm permanently disabled and his left arm minimally functional. He was awarded two Purple Hearts and two Bronze Stars with an oak leaf cluster.
Like McCain, Dole was also one of the few Americans to achieve the nomination of a major political party for president only to endure defeat on the national stage. Although the rivals who ended their presidential ambitions, former Presidents Bill Clinton and Barack Obama, were in attendance the Washington National Cathedral on Saturday, President Donald Trump was not invited to the memorial service.
"Despite our differences on policy and politics, I respect Senator John McCain's service to our country," Trump wrote in the four-paragraph statement, which dealt mainly in the logistical details he'd approved for the week-long remembrance ceremonies.
During his presidential campaign, Trump also famously questioned McCain's heroism, saying he wasn't a war hero because he was taken prisoner in Vietnam.
That, Dole told Cabrera, was a mistake.
"President Trump made a mistake … when he said John McCain was not a hero. He's the only one in America, probably, who thought that way, but John didn't want him to come to the funeral, so he said nice things and stayed away."
Read more: http://edition.cnn.com/